Ella Fitzgerald crooned that question in 1960, and I couldn't help but wonder what all of you lovelies out in blogland are planning. I'm Jess Graves and I write a blog called
The Love List
that works in sync with my boutique graphic design company,
Front Porch Studio.
I got to know Meg when I re-did her blog and we have been buddies ever since. We share an unabashed love for contemporary fashion, relaxing music, a good bottle of bubbly, and whatever new hot beauty product we can get our hands on - we often joke we are brain twins because we always go after the same stuff. In true PIPM fashion, I figured I'd center my guest post around our #1 love (and I'm sure the drug of choice for many of y'all out there) - shopping. And not just any shopping, oh no! But shopping for the mecca of sass, sparkle, and champagne - New Year's Eve. Here are my picks for ringing in the new year with style to spare.
1. An outfit appropriate for the occasion.
My NYE plans this year include a grand dinner and night of cocktails on a rooftop bar and reuniting with old college friends, so my outfit has some sparkle but still keeps warmth in mind. However, if your plans include a more conservative dinner out with family or your beau, bling can still be a conservative thing if brought in with a cardigan or ballet flat.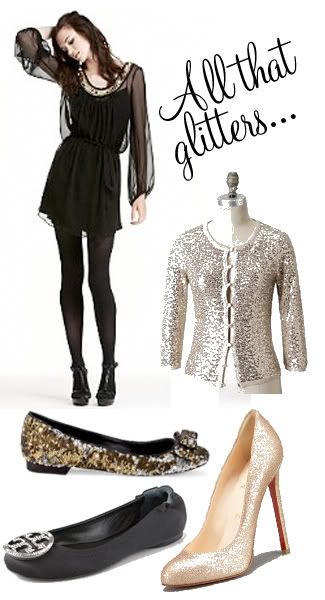 [L-R: Milly Gemma tunic, 395.00 at Bergdorf Goodman (my exact NYE dress!), Anthropologie Demi-Sec cardigan, 128.00 (great for a nice dinner), Kate Spade Harper flats, 295.00. Tory Burch Lissie satin flats, 350.00 at Shopbop. Christian Louboutin glitter pumps, 595.00 at Bergdorf Goodman.]
2. A libation worth its bubbles.
Of course, we can't forget the champagne! My favorite is Veuve Cliquot Brut yellow label - Mirelle Guiliano
is the CEO of the company and I have looked up to her for ages for her taste and business savvy. If you're more of a cocktail kind of girl, I found the best one ever at
Péché
, a prohibition-style absinthe bar in Austin, TX last month. It's called a French 75 and is made of Gin, champagne, bar syrup and lemon juice - to die for. If you're just hanging out with the girls, try the adorable (and tasty!) Sofia (yep, Coppola) Blanc de Blanc California champagne. Those cute little pink cans and mini bendy straws are perfect paired with red velvet cupcakes for a festive girl's night in.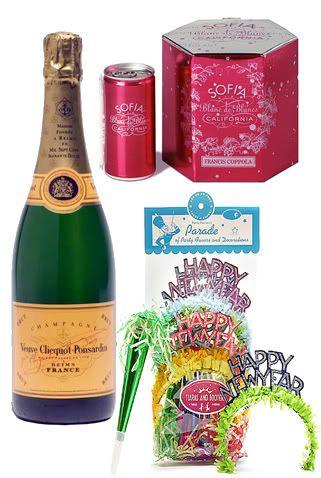 [L-R: Veuve Cliquot Brut yellow label, 49.99 at most fine liquor stores. Sofia Blanc de Blanc California Champagne, available at specialty grocers. NYE Noisemakers, 3.95 at Plumparty.]
3. All the trimmings to inspire for 2010.

No matter your resolution, these treats ensure you ring in the new year with style and savvy. I love Eric Fischl's depictions of fabulous figures in black dresses and tuxedos sipping champy. Jo Malone body oil makes your skin soft to the touch and soft to the touch, and rosebud salve your lips kissable for when the clock strikes 12. A journal and day planner help you mark and remember important dates, and a scrumptious Tocca candle lit over the wafting sound of Ella Fitzgerald's Christmas album create a lovely mood at home.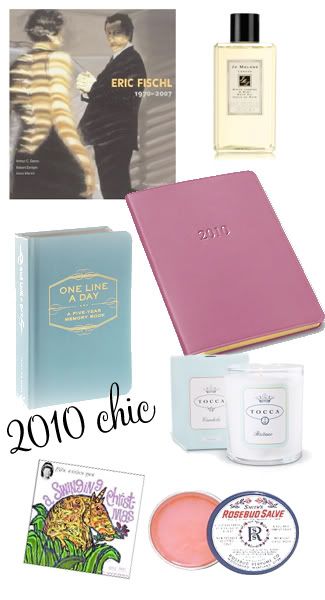 [L-R: Eric Fischl 1970-2007, available on
Amazon
.
Jo Malone
body oil, 60.00. 2010
Gallery Leather
Desk Planner in Orchid, 24.00. One Line a Day Five Year Memory Journal, 11.60 at
Amazon
. Tocca Candle, 36.00 at
Sephora
. Smith's Rosebud Salve, 6.50 at
Sephora
. Ella Fitzgerald's 'A Swinging Christmas', at
Amazon
.]
No matter what you do, wear, sip on or listen to - I hope each and every one of you has a happy holiday and an even better 2010! Cheers!